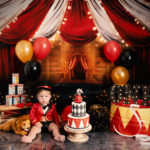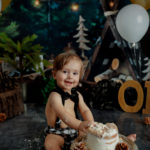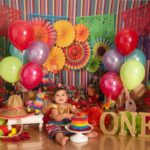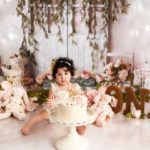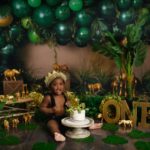 1 YEAR CAKE SMASH
My 1 year session fee is $350My basic 1st birthday session fee is $350 with an additional $50 cleanup fee if you'd like to bring a cake. This includes 5 digital images of your choice. Additional images would be $25 each or 5 for $100. I have backgrounds in studio you can choose from. For this price you can use any backgrounds in studio, but you provide the set up which would be cake, balloons and flower poms for the floor to your liking.
 If you'd like me to provide the entire set up and you just bring baby the price is $600 and includes 15 digital images or $1,000 and includes 25 images with a 10×10 flushmount album. With the $600 and above package, you are allowed to choose a new background from www.babydreambackdrops.com (if time allows to receive with shipping (They normally take about 2 full weeks – they can be expressed for an additional fee!) I can also do a custom balloon arch if you're not interest in a background. I provide the outfit, a custom cake to match the theme, balloons and flower poms for the floor. I coordinate everything while sending you my suggestions for approval once I know your desired look or theme! 
 Many people ask when to schedule their cake smash. if you'd like your images for baby's party I need at least 72 hours to edit and return images to you after the session is done and you've chosen your images! Please let me know if you have questions or if you are ready to schedule. I do appointments Monday through Friday's. Weekends are an additional $75.